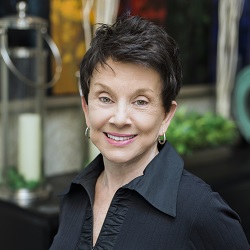 About Daphne
I have lived in the Raleigh area for 33+ years and have been a top producing member or the Marti Hampton Team for 17+ years. I fully understand that the buying process can be challenging and complicated. It is my goal to provide integrity, energy, hard work, and excellent service in every detail of your real estate transaction. I strive to make every transaction positive and seamless and take the pressure off you.
I am married to Al - an avid golfer...I do try golf, but if water is anywhere around, my ball goes right for it!!!  I have a little 7 pound spoiled poodle named Rambo. I have two children, Britney and Chip and am extremely happy that they both live in the Raleigh area.  AND... four beautiful grandchildren! My family loves the area because of the warm and friendly people, top quality schools, the true four season, culture and outdoor activities available to us.
My strong base of repeat customers and the help of my wonderful client care manager, Petra of over 11 years, is why I have been so successful in this very competitive sales environment. I believe strongly that it is about the customer and not the agent. It is not only my duty to present my customers to the best of my ability but to educate them through each step of the process armed with top notch information and market insight so that my customers make the best decisions possible and know what to expect to achieve in today's market. A must for me is great customer service, consistent communication, strong attention to detail, and ensuring a positive experience for all parties in a transaction: buyers, sellers, cooperating agent.
I have sold many homes over the past 17 years and look forward to the opportunity to work with you. I am driven each day by helping my customers find the home of their dreams.